My brain is a bit blank this morning. No witty asides or exciting commentary at the world at large
Thus it's a good day to write up one of my least enjoyable experiences of a well put together film.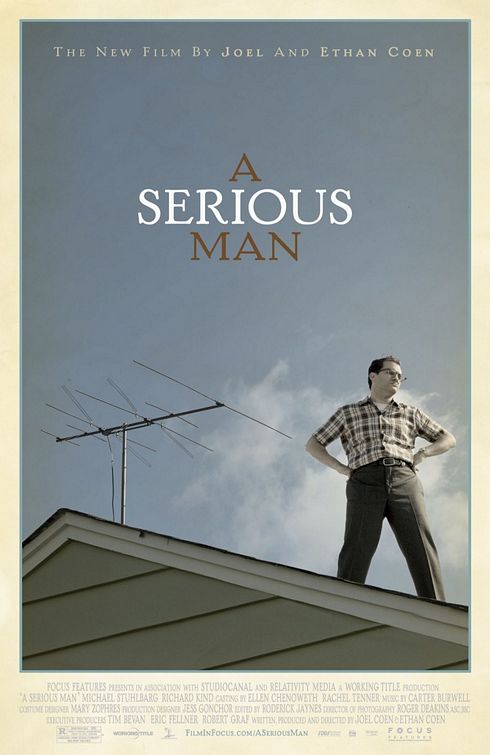 The Movie:
A Serious Man

The Director(s):
Joel & Ethan Coen (
No Country For Old Men, Raising Arizona, etc.)


Somethin' Interesting:
Never before in my entire life have I left a film so wracked by anxiety. Sure, it might just be that I'm an Anxious Alan these days, but lordy, lordy was a crackling ball of nervous energy.
Somethin' Else Interesting
: As we rode out of the theatre, the final apocalyptic scenes ringing in our heads, the city of San Francisco was almost deadly quiet. Every car was stopped and all that could be heard was some lunkhead screaming and The Blue Angels careening overhead. I believe the word is, "eerie".
Quick Notes:

1. One strange cast.


The Coen's made two movies packed with stars in the last year or so (the amazing
No Country
and the hilarious
Burn After Reading
) and then, well, they made this. A film about Jews in Minneapolis that stars no one bigger than Richard Kind, the mensch from Michael Fox's
Spin City
. I appreciate no director on the planet more than these two, true artists that take their gained clout and make daring and original movies that no one else can.
2. Do Jews like this better?

There's been a lot of talk about
A Serious Man
and the fact that critics have been describing it as "too Jewish". Sure, it sounds like an awful description, but honestly this film is set amongst the deeply Jewish community of, uh, someplace in Minneapolis in the 1960s. The themes and plot of the story are rooted heavily in Jewish culture, as are the characters and even the language. Is it a terrible thing to refer to the film as "Jewish" when the plot follows that of Job, a main character in
The Torah? Maybe. My question actually is as a Jewish person, that I am not, is more enjoyment gleaned from this film? Do the Jewish themes and phrases resonate more? Being a Gentile am I missing out?
3. Anxiety.


I said this up top, but oh my, oh miso, did this film get my gall up. At the moment, one wracked by anxiety, I couldn't say I enjoyed the film, but as I've pulled farther away from it this anxiety was wrought from me by the sheer genius filmmaking of two of the best working in the business. Every scene, every shot, every moment, every musical cue is perfect in this film, and that perfection is aimed at notching up the level of anxiety for the main character, and the audience, as much as possible. You feel it building and building and building and you hope for a pressure release, which comes, but in the last moments The Coens, those geniuses of cinema, seal the cap again. I left nearly breathless with nerves. As did my roommate Lindzilla. We both just sat at home and stewed in anxiety, barely able to muster a "good" or "bad" about
A Serious Man
.

4. Just like a Lebowski


Give this film a chance. Let it sit in your brain for a few days. Let the Roger Deakin cinematography and the character and world building of The Coens settle in. You'll love this film, perhaps even brave the wilds of anxiety to view it again.
Final Thoughts:
Another near perfect entry in to the shockingly good filmography of the brother's Coen. I can't recommend those with anxiety issues the experience of watching this film, but a weekend of near throw-ups is worth it, to me, when a film is this good.
Friday:
Clue