Alright, so I'm taking a break from the ceaseless quest of Criterion (I love you sweet Criterion, don't think I'm shunning you, as I will never, ever do that) but I still want to keep talking about things I love, just in shorter more succinct bursts. I do a daily music blog over at the wonderful Sound on the Sound called The Daily Choice, where I pick one band and one song and let my startlingly verbose mind just sort of go to town.
This is not an original idea. I am not the first to do something of this kind, and I claim nothing of the sort. This is just a way that I can give myself a framework to keep me honest, keep me writing, and most excitingly, keep sharing. Not just music either, movies, books, films, art, websites, videos, anything I find that I think is amazing.
I'm always on the look out, and I'm always keen for tips.
I'm giving this a shot for a week, to gauge time and interest and if it just doesn't work, I'll jump pack to Criterion Quest and all the filmic madness that entails. Give me some comments, tell me what you think, tell me you hate it or love it or that it makes your sleep burble with erotic dreams.
You know, whatever.
ONE-A-DAY #1: James Brown -

Sings Out Of Sight

(LP)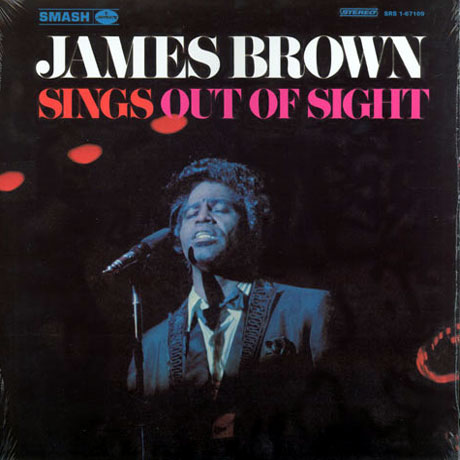 I scooped this album up from Amoeba for 2.99, as I've never owned a James Brown LP, and I've been pretty heavy on the funk/soul side of life in the last few months. I thought I might be grabbing a weak piece of JB love, but instead stumbled upon an absolutely beautiful collection of tracks from the Godfather of Soul. Sure, in the middle it gets a little Copacabana (as all of the great soul artists tended towards in the mid-1960s) but the rest, including a sort of tinny version of "I Got You" crackle with all the James Brown hootenany we've come to expect from the sadly deceased master.
My hips swivelled in ways I couldn't explain yesterday. Alone, in my sunlight room, my hips thrust and shuddered. It was almost dirty.
I don't think this is a rarity of any kind, so please, get on out there and snatch yourself an old beat up copy that hops and jumps on your toy record player. It's really the best way to appreciate it.