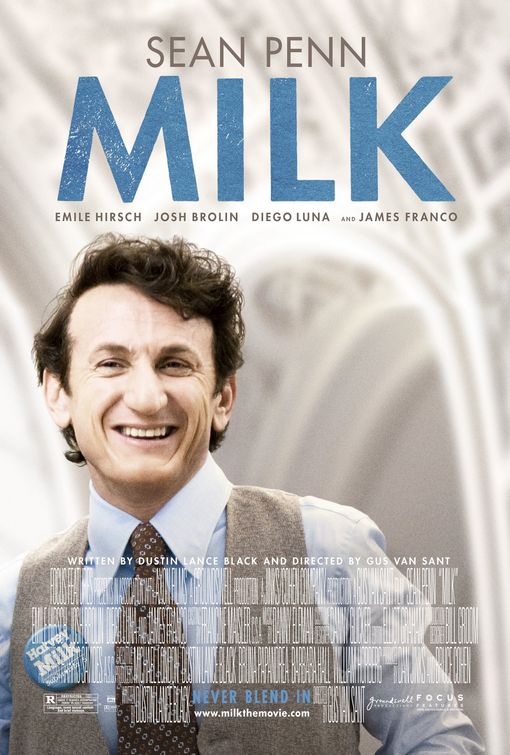 I had one of the more surreal and amazing film experiences of my life last night, and it had nothing to do with how much I enjoyed the movie, rather the surrounding and the people I was with. I went and saw
Milk,
Gus Van Sant's much vaunted bio-pic about SF City Supervisor and gay rights super advocate Harvey Milk. I went and saw the film in the beautiful Castro Theater, right across the street from where Harvey Milk stood on a soap box and declared "I'm Harvey Milk, and I want to recruit you." Right up the street from Castro Cameras where Harvey Milk and a crew of dedicated men and women decided they wanted to better the world. I sat in this theatre and watched a film about his life.
It was surreal in the best way. They showed, over and over again, the big beautiful sign for the Castro Theatre and every single time, my heart fluttered, because we were literally sitting inside this very same theatre, a part of the city Harvey Milk helped to define. It was a beautiful feeling and at the same time quite sad as the film revolves around Milk's battle to repeal Proposition 6, a law that would've, if not for Milk, forced gay teachers and their supporters out of schools. We sat and watched how thirty years ago Harvey Milk fought for the rights of these men and women, and not a soul in the theatre couldn't have not been thinking about how California just recently passed Proposition 8, a thematically similar piece of law. You couldn't help but shake your head.
I don't know if
Milk
is a movie to critique in public circles. Gay rights, as they should be, are still a sensitive topic and a movie about one of the true figureheads of the movement, I think, is almost automatically put up on a pedestal. I think the story of Harvey Milk and the change he fought for is an amazing bit of history. That said I didn't find Gus Van Sant's depiction of this story to be mindblowing, hell, at times I found it to be melodramatic and subject to the same tedious biopic pics so many films of this type fall prey to. And though I feel that, I find it difficult to argue these points because of the emotion and, in many cases, history tied to the events of the film. It makes it difficult to try and discuss the movie as simply that, a film, subject to all the rights and wrongs of filmmaking any movie can be.
That said, there were many parts of the film I found truly enjoyable: Sean Penn, as he is more and more, was a revelation a Harvey Milk, a character that you loved and rooted for, all the while feeling his life slip away from home in the face of his great passion; I loved James Franco's Scott Smith and Josh Brolin's Dan White is a testament to the man's ability to chameleon himself in to just about any character; I enjoyed the usage of archival footage as it brought me in to the time period in a non-invasive, non corny way. Unfortunately, as much as I wanted it to, the film just didn't add for me. I love Gus Van Sant, I just don't know if he's up to directing big budget features. He's too set on trying to meld his avant garde ways with this urge to sate the big budget audience and what you get is overly swelling strings coupled with shaky cameras and not only is it off-putting, it's downright obnoxious. They scenes where the crippled gay kid call Harvey Milk were so distracting and so painfully manipulative I nearly screamed.
Finally, Alex made a great point last night, that
Milk
is sort of "gay-light", a sort of timid introduction to the struggles and plights of gays in America, and both of us agreed, this is probably for the better. A bigger, edgier, hell, gayer film probably wouldn't have landed Sean Penn an Oscar (as sad as that might be), thus negating a lot of the amazing effect and spotlight ability this film had. I've heard the documentary,
The Live and Times of Harvey Milk
is a far more completist view of the story and I can't wait to dig in to that, as it really is an amazing story and truly inspiring, if not saddening part of this country's history.
I wanted to like this film more, but I couldn't get past Van Sant's shoddy directing. I implore to see it though, and see what one person can do, and to make your own opinion about the film. Really, it'll be worth your dollar.
Wednesday:
The Element of Crime (80)